Login | December 18, 2018
Retired Judge Carla Moore receives another top honor


Retired 9th District Court of Appeals Judge Carla Moore received the Bert A. Polsky Humanitarian Award on Oct. 17. During the ceremony, she joined Akron Community Foundation Board Chair Steve Strayer as they unveiled her portrait, which will hang in the foundation's boardroom along with those of other past recipients. (Photo courtesy of the Akron Community Foundation).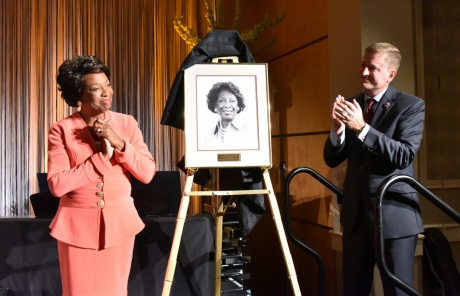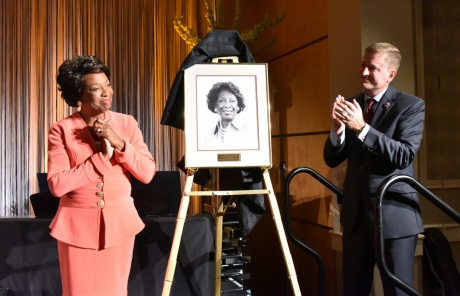 SHERRY KARABIN
Legal News Reporter
Published: November 15, 2017
When retired 9th District Court of Appeals Judge Carla Moore accepted the St. Thomas More award in May 2016, she said she believed it was the highest award she would ever receive.
At the time, she was less than a year away from retirement and already had a string of awards under her belt, including The University of Akron's Distinguished Alumni Award, The Ohio State University Moritz College of Law's Distinguished Jurist Award and the Akron Bar Association's Judicial Pioneer Award.
So when she was asked to meet with Akron Community Foundation President and Chief Executive Officer John T. Petures Jr. and then-board chair Steve Cox in June at Bricco to discuss ways to engage the nonprofit's board members, she did her research and showed up with a few ideas in mind.
But when she arrived at the restaurant, she got an unexpected, but pleasant surprise.
"Shortly after we were seated for lunch, Roger Read joined us," said Judge Moore. "Roger is a local philanthropist and a former recipient of the Bert A. Polsky Humanitarian Award. It was he who broke the news to me that I had been chosen as the 50th recipient of the award.
"I had received so many amazing honors in my lifetime," said Judge Moore. "Each time I thought it would be the highest award that I would receive.
"But when I found out that I was being given the Polsky Award for the charitable work that I had done in the Summit County community, I was so deeply honored," said Judge Moore, who received the award on Oct. 17 at the Hilton Akron/Fairlawn.
"The unique thing about this award is that the individuals who vote on the honoree are themselves past recipients," said Petures. "Akron Community Foundation has a longstanding legacy of giving back to the community so it is fitting that we would host this event, which applauds the generosity of our community leaders.
"Judge Moore is someone who is known for her compassion in the courtroom and volunteer efforts in the community," said Petures. "Carla is what we call a servant leader. She uses her leadership roles to serve and uplift the community.
"She has a selfless drive to give back and improve people's lives. She is an inspiration to us all."
As part of the honor, the Akron Community Foundation commissions a portrait of the recipient to hang in the foundation's boardroom alongside the portraits of all the other past recipients. During the event, Akron Community Foundation Board Chair Steve Strayer and Judge Moore unveiled her portrait.
Petures said the award ceremony also serves as a fundraiser for the foundation, which manages more than 580 charitable funds for individuals, families, nonprofits and businesses and provides grants to nonprofits in the community.
Former Akron Deputy Mayor Dave Lieberth, who produced the award ceremony, said Judge Moore is an excellent choice.
"She embodies all the qualities that the award is intended to recognize," Lieberth said. "She is kind, charitable, professional and has made significant contributions to the community."
Born and raised in Akron, Judge Moore received her bachelor's degree from The University of Akron and her juris doctor from The Ohio State University in 1977.
She began her career as an assistant attorney general in the Ohio Attorney General's Office in Columbus. Her next stop was the U.S. Attorney's Office for the Northern District of Ohio, where worked in the civil division and later served as chief of the appellate division.
In 1988, she joined Buckingham, Doolittle & Burroughs as an associate.
Less than two years later, she made history as the first African-American woman to be appointed judge in Summit County. This after Gov. Richard Celeste asked her to fill the Akron Municipal Court seat held by Judge Harold K. Stubbs, when he passed away in 1989.
Several months later she was elected to the seat, becoming the first African-American female to be elected judge in Summit County.
In 2004, she was elected to the 9th District Court of Appeals, a seat that she held until her retirement in February 2017.
Betsy Hartschuh, who served as Judge Moore's judicial attorney at the court of appeals for just over four years, said the judge is the "epitome of a model citizen.
"She is very generous with her time and treats everyone with respect," said Hartschuh, a business and estate planning attorney at Witschey, Witschey & Firestine Co. "She's a person who makes everything around her better, the community, her colleagues and her family.
"She is so outstanding in everything she does that she motivates those around her to be the best they can be."
A longtime member of the Akron and Ohio State bar associations, Judge Moore has served on the board of the Akron Bar Association, the Akron Community Foundation, Leadership Akron, the Akron Area Association of Churches, Akron Children's Hospital, the national board of the Christian Legal Society and the Ohio Judicial College, where she was also president of the board of trustees.
Until funding was discontinued earlier this year, she volunteered for the Greenleaf Family Center's Teen Parent Program in Akron.
Judge Moore lives in Bath Township with her husband Dr. Dan Wilson, a dentist with offices in Akron and the village of Warsaw, where they have a farm.
They have two grown children, Dan Wilson Jr., an accomplished jazz guitarist and Michelle Wilson Latting, a fellow in the Oculofacial and Orbital Surgery Fellowship Program at Duke University School of Medicine.
She and her husband continue to take part in medical missionary work in Westmoreland Parish in rural Jamaica.
"My husband and I plan to continue our humanitarian missions for the foreseeable future," said Judge Moore. "We have also been travelling for pleasure and spending time with our children."