eBay pilot helps small businesses market products
More than 100 small- and medium-sized businesses from Akron and Warren are participating in a 12-month eBay pilot program called Retail Revival, designed to teach entrepreneurs how to market their products and services using the e-commerce platform. Two of the Akron businesses taking part in the program are New Territory, a virtual and augmented reality company, and Urban Buzz Candle Co., which features handcrafted beeswax candles in a variety of shapes, sizes and scents. (Photos courtesy of New Territory and Urban Buzz Candle Co.)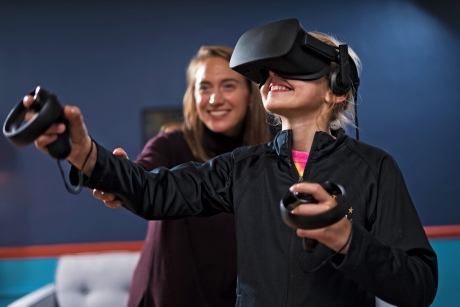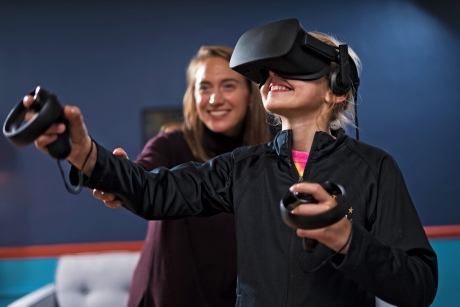 SHERRY KARABIN
Legal News Reporter
Published: March 13, 2018
E-commerce and brick and mortar—two things that small business owners may not associate together, but a new eBay pilot program in Akron is working to change those perceptions as they train entrepreneurs on how to market their products and services using the e-commerce platform.
The 12-month program called Retail Revival was unveiled on Jan. 19 at the Northside Marketplace as Akron Mayor Dan Horrigan joined eBay Inc. President and Chief Executive Officer Devin Wenig in announcing the first-of-its-kind eBay initiative in the United States.
"We are thrilled to be working alongside eBay to help our local, brick-and-mortar businesses grow and thrive through e-commerce," Akron Mayor Dan Horrigan said in an emailed statement. "Through this program, we will embrace Akron's small- to medium-sized retailers and provide them with the tools and support necessary to succeed in the global marketplace."
Heather Roszczyk, innovation and entrepreneurship advocate for the city of Akron said the program is a chance for business owners to learn how to use the eBay platform to develop a global following.
"It's also a huge win for the city of Akron," said Roszczyk. "We were thrilled when eBay approached us with this opportunity.
"So often the narrative is that e-commerce tears down brick and mortar. This initiative will allow eBay to demonstrate that, when used properly, it can prop up and/or expand traditional businesses."
Chris Librie, senior director of global impact and giving at eBay, said the company conducted similar initiatives in cities in Germany and Italy that positively impacted brick-and-mortar businesses.
"Last year we decided to select a city in the United States," said Librie, head of the Retail Revival program. "Our goal was to find a place that was already a strong eBay selling community and Summit County was one of the strongest.
"The state of Ohio has 245,000 sellers who do nearly $1 billion worth of sales on eBay," he said. "We selected Akron because we were impressed by the maker spirit of the Akron community and the large number and variety of brick-and-mortar stores that exist."
While the initiative is Akron-centered, Librie said the city of Warren was also selected as a satellite participant in the Retail Revival program.
Librie said the goal was to choose about 40 companies, but they received so many applicants that more than 100 were selected, the bulk from the Akron area.
"We wanted businesses that had a physical storefront and sold products in our top categories," said Librie. "We also gave a lot of weight to their personal stories and there were some great ones."
He said there is a misconception that eBay is an auction site, but in reality 88 percent of the products are now sold at a fixed price and 81 percent of the items are new.
"Since eBay is an e-commerce platform, we are not competing against the businesses that sell products," said Librie. "We are there to support them and enhance their seller experiences.
"The vast majority of our sellers export to multiple global markets," he said.
Among those businesses chosen in Akron is the virtual and augmented reality company New Territory.
Co-owned by Bill and Grace Myers, New Territory opened in August 2017 and consists of two components, software development and a virtual reality arcade.
"We sell our software to business customers, with whom we have one-to-one relationships," said Bill. "At night and on weekends, we open our arcade at the Northside Marketplace, where the general public can rent our headsets and experience some of our immersive technology products.
"We not only have games, we also offer travel and art experiences.
"We already have an eBay store and we were selling some of our products in the U.S.," said Bill. "We are hoping eBay's Retail Revival program will allow us to take our business to the next level and attract global buyers."
Kaley Foster, owner of Urban Buzz Candle Co., was also selected for the pilot.
The company, which began in October 2014, features handcrafted beeswax candles in a variety of shapes, sizes and scents, all containing natural ingredients, such as Ohio beeswax, pure essential oils and a cotton wick.
"I am a big proponent of natural products," said Foster, who was born and raised in Akron. "When I started, I only sold the candles online, at craft shows and a handful of local shops, but last October I decided to open up a storefront in the Northside Marketplace, which has been a catalyst to growing not only my business, but 50 other Akron-based businesses."
Business owners who were chosen for the pilot took part in all-day training session on March 1 at The Well Community Development Corporation, with more than 20 eBay employees on hand to assist them.
"Many of the eBay employees who were involved in the training are customer service workers who will continue to serve as a support system for these business owners during the entire 12-month project," said Librie.
Bill Myers said the training session was thorough and extremely helpful.
"From listing products, shipping our items globally and providing excellent customer service to our buyers, our training covered all the aspects of running a successful eBay store," he said.
While the business has three employees, Bill said he recently posted two more jobs in anticipation of the growth that will result from taking part in the initiative.
Foster said after attending the eBay training and hearing a multitude of success stories from businesses just like hers, "it is apparent what an incredible opportunity the Retail Revival program will be for my business.
"I have been working hard to create a more prominent online presence to reach more customers, and it's clear now that eBay will play a substantial role in making that happen," Foster said.
The companies that are participating in Retail Revival will continue to receive ongoing support from eBay's Global Customer Service team throughout the entire program, including webinars focused on specific topics to optimize selling on the platform.
In addition, eBay has launched a landing page on eBay.com, where the businesses and their products are being added.
While the Akron initiative is a pilot, Librie said eBay expects to expand the program to other cities in the future.