YSU veterans center to be named in honor of local atty

On May 23 Youngstown State University's Veterans Resource Center will be renamed the Carl A. Nunziato Veterans Resource Center. Nunziato, a Vietnam veteran, chaired a committee that helped make the center a reality. Pictured here from left to right are Bernie Kosar, Sr., the late Ohio Senate President Harry Meshel and attorney Carl A. Nunziato. (Photo courtesy of Youngstown State University).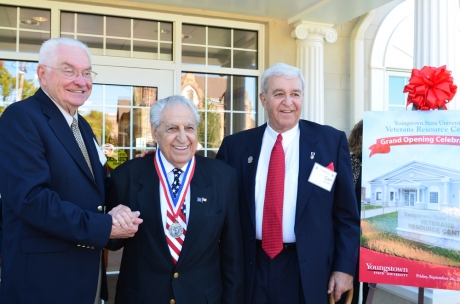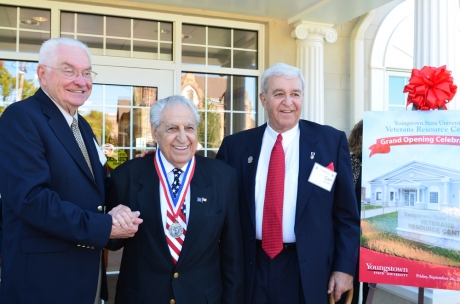 SHERRY KARABIN
Legal News Reporter
Published: May 17, 2018
Vietnam veteran and attorney Carl A. Nunziato spent five years working to make Youngstown State University's Veterans Resource Center a reality, now the building is being dedicated in his honor.
On May 23, the structure will be renamed the Carl A. Nunziato Veterans Resource Center during a ceremony on the YSU campus.
"I am extremely honored," said Nunziato. "Like many Vietnam vets I received a negative reception when I returned to the U.S. and since then I've been working to make sure that all veterans have a good experience and are fully accepted in the communities where they live.
"It took many years to secure the support and raise the funding to get this veterans center up and running," said Nunziato. "I did not do it alone. I had a lot of assistance."
The late Harry Meshel, a former Ohio Senate president and state Democratic Party chairman, and Bernie Kosar Sr., the father of Cleveland Browns quarterback Bernie Kosar Jr. served on the committee that Nunziato chaired, which worked to create the center.
"Carl and I went through YSU's ROTC program together," said Kosar. "We've known one another since 1957.
"While the university had an office for veterans affairs, it was not visible," he said. "We wanted to create a structure that would be free standing and out in the open that would signal to veterans that the university really cared about them."
Located at 633 Wick Ave., the center opened its doors in September 2014, approximately five years after their efforts began.
Patrick "Rick" Williams, a retired U.S. Army Major serves as the center's manager.
"The university donated the land and pays for the salaries, operation and upkeep of the building, but it was the tireless efforts of Carl, Bernie and the senator who raised nearly $1.4 million to construct the building," said Williams. "The center assists those returning from active duty, reservists, national guardsmen and their dependents in applying to and persisting until graduation at YSU.
"We help the veterans figure out if they are eligible for benefits, what they might like to major in as well as arranging their class schedules.
"YSU currently has about 400 military-connected students, including dependents of military members."
While the building has been operating for about four years, Williams said a recent significant donation was the impetus for the dedication ceremony.
"The money came from an anonymous donor, who did not include any major restrictions on its use aside from the fact that the funding must be used to benefit veterans," said Williams. "We already have a scholarship fund for veterans who are in need. This money will be used to create programming, buy equipment, bring in speakers or perhaps provide upgrades to the building in the near future."
One other condition, said Williams, was that the building be named in honor of Nunziato.
"The center never had a real name and this is a very appropriate time to dedicate the building in honor of the man who has done so much to help veterans in the Mahoning Valley."
Born and raised in Youngstown, Nunziato graduated from the ROTC program at Youngstown State University in 1961 with a bachelor's degree in English and education.
Afterwards, he entered the U.S. Army, doing one tour in Thailand during the Laotian Crisis and two combat tours in Vietnam.
In November 1966, he was wounded in an attack by the Viet Cong that resulted in the loss of both of his legs below the knee.
"I spent two years recovering at Walter Reed Hospital," said Nunziato, who was honorably discharged in August 1968 with the rank of major.
His valor earned him a Purple Heart, a Bronze Star Medal, an Air Medal, the Armed Forces Expeditionary Medal, National Defense Medal, Vietnam Service Medal, Vietnam Campaign medal with three Battle Stars and Aircraft Crew Gunner Wings.
When he returned to Youngstown, he began law school at Case Western Reserve University, receiving his juris doctor in 1971.
He began his legal career as an attorney at Dollar Savings & Trust Company, where he remained for 28 years through a series of mergers.
When he retired in 2004, the institution was known as National City Bank.
After retiring from the bank, he started his own practice in Boardman, where he focuses on trusts and estates matters.
Over the years, Nunziato has been a staunch advocate for veterans affairs, co-founding the Youngstown chapter of the Governor's Subcommittee for Barrier Free Architecture, which sought to make buildings and structures accessible to those in wheelchairs.
Some of his other contributions include founding an outpatient VA clinic on Belmont Avenue in Youngstown, working to resurrect the ROTC program at YSU and establishing the Carl Nunziato Scholarship at YSU, which provides tuition or room and board assistance to eligible cadets.
In addition, he served on the board of Easterseals of Mahoning, Trumbull and Columbiana Counties for 39 years.
Nunziato and his wife, Clara Scarpine, live in Boardman and have one daughter, Bay Village attorney Beth Lally, and two grandchildren, Maria and Philip, who are attending the University of Notre Dame in Indiana.
"Carl has overcome many obstacles over the years," said Williams. "He's a very humble and positive man, who has had a very successful career as an attorney.
"He has never let his disabilities get in the way and he remains actively involved at YSU."
"Carl is a very dear friend, who has done tremendous works," said Kosar, former mayor of Canfield. "I will be speaking at the dedication and I am very happy to do so.
"He has given so much to so many."
The May 23 dedication ceremony takes place at noon at 633 Wick Ave. in Youngstown.
There will be a reception at 11:30 a.m. on the North Lawn, adjacent to the Pollock House on Wick Ave.
Anyone planning to attend is asked to send an email to plwilliams@ysu.edu or call 330-941-2506.