Login | February 19, 2019
Former NFL player helps youth score touchdowns in life

Rollen Smith, assistant director of football operations at Youngstown State University, has spent much of his life coaching young people on the field and off to help steer them away from trouble so they can lead productive lives. In addition to his job at YSU, he serves as program facilitator at the Mahoning County Juvenile Justice Center and coordinator of the court's TEAMS (Teach...Educate...Acknowledge...Mentor...Students) program. Pictured here Smith teaches life skills to students from the TBC (The Brotherhood Council) treatment unit at the Mahoning County Juvenile Justice Center. (Photo courtesy of the Mahoning County Juvenile Justice Center).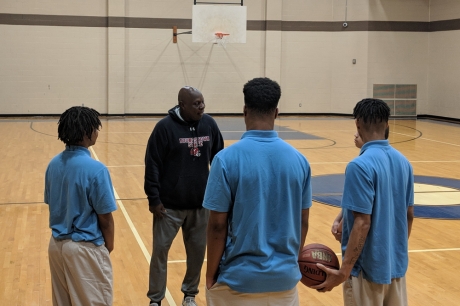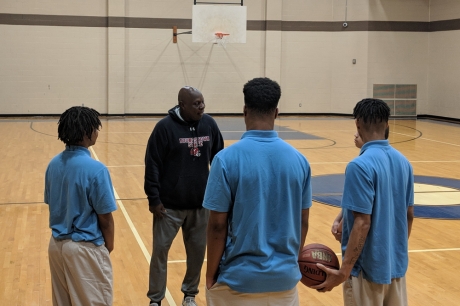 SHERRY KARABIN
Legal News Reporter
Published: July 9, 2018
Youngstown native Rollen Smith believes all young people deserve to have someone in their corner to provide assistance when they encounter difficulties navigating life's challenges.
Whether it's through coaching football or his work as program facilitator at the Mahoning County Juvenile Justice Center, Smith has spent most of his life mentoring and inspiring young people to lead productive lives.
As one of six children, Smith said his parents stressed the importance of community and church service to all their children.
"It's something that stuck with us as adults," said Smith. "In my case, it turned into a desire to help kids."
A graduate of Woodrow Wilson High School, Smith received a football scholarship from the University of Arkansas in Fayetteville, obtaining his bachelor's degree in police science in 1976.
In his two seasons at Arkansas, he was a standout defensive back. Smith served as a team captain in 1974 and following the season played in the Blue-Gray All-Star Football Classic.
Smith was a sixth-round draft choice of the Cincinnati Bengals in 1975 and later signed with the St. Louis Cardinals.
When he returned to Youngstown in 1980, Smith took a job at the former Tod School, where he taught vocational skills. He also served as a part-time football coach at South High School.
"I've always had two jobs and one of them has always been coaching," said Smith.
After coaching students at South High School for eight years, he spent the next 20 seasons as an assistant coach for the Ursuline Irish.
During his tenure, the team qualified for the state playoffs 13 times. In Smith's final two years at the school, Ursuline won the state's Division V Championship. He was also on staff in 2000 when the team won the Division IV crown, posting a 14-1 mark.
In 2010, Smith joined the Youngstown State University football coaching staff, becoming an assistant strength and conditioning coach two years later.
In 2011, he helped lead the Penguins to a 6-5 mark, including a win over top-ranked North Dakota State.
Today he serves as assistant director of football operations at YSU.
"I see myself as more than a coach," said Smith, who works part time at YSU. "I recently had a student who was trying to get a summer job at FedEx and he needed a ride to the interview. I was happy to do it and he got the job."
But coaching football is only one of the ways in which Smith has tried to improve the lives of young people.
In 1993, Smith began his longtime career at the Mahoning County Juvenile Justice Center as a group leader in the detention unit, working his way up to supervisor, behavior specialist and program facilitator.
As he prepares to retire from the court at the end of July, he leaves behind a legacy of hope.
"Rollen has helped many students while at juvenile court and his gentle yet firm presence will be missed," said Mahoning County Juvenile Court Judge Theresa Dellick.
Of all his efforts over the years, many believe his crowning achievement at the court is the TEAMS program.
TEAMS, which stands for Teach…Educate…Acknowledge…Mentor…Students, is a phrase that Smith coined for the program that he helped design in order to deter truancy and delinquent behavior, while increasing high school graduation.
"I included the word 'acknowledge' because I believe that it's important to acknowledge what these young people are going through as part of the teaching and mentoring process," said Smith, who serves as the program's coordinator.
"We work on a variety of different skills, including self-accountability, in order to help these young people get on a successful path."
TEAMS is one of several programs at the juvenile court that's funded through RECLAIM (Reasoned and Equitable Community and Local Alternatives to the Incarceration of Minors) Ohio.
An Ohio Department of Youth Services (DYS) initiative, RECLAIM Ohio encourages juvenile courts to develop evidence-based programs to meet the needs of juvenile offenders or young people at risk of offending in an effort to divert qualified youth away from DYS institutions and into community-based alternatives.
Mahoning County Juvenile Court Administrator Wes Skeels said the TEAMS program, which began in 2017, has had a positive impact on the lives of many young people.
"Rollen works with youth between the ages of 10 and 21, who are primarily referred to the program from Mahoning County High School, which offers diplomas to students who have dropped out or been expelled from their home school," said Skeels.
"Once a student is referred to Rollen, he becomes the person's mentor," said Skeels. "During the orientation period, he meets with the family and he will continue to do so as needed.
"Rollen will do everything from picking up and transporting a student to activities to taking the student on a tour of the YSU campus. He also helps students fill out college applications.
"He's even purchased alarm clocks for students who can't make it to class on time."
Skeels said this year alone Smith has worked with 134 students.
"About 75 percent of the TEAMS students do not incur any new delinquency charges and 75 percent do not incur any new school suspensions, which is how we know the TEAMS program is making a difference."
Judge Dellick said not only are students in the TEAMS program staying out of trouble they are replacing negative behaviors with positive coping skills.
"Rollen is a great adult mentor and students flock to him," said Judge Dellick. "He is an excellent male role model and students feel comfortable confiding in him.
"We've sent students to him who were bullies at school and he shows them how to channel their negative energy into positive actions," she said. "He takes them to YSU and works with them one-on-one at the school gym and helps them build self-confidence."
In addition to his work at the court and at YSU, Smith is also a prevention specialist for the Mahoning County Chemical Dependency Program.
For more than 20 years, Smith has served on task forces aimed at combatting AIDS and crime in the area. He is also a longtime volunteer for the Boys & Girls Club of Youngstown.
Smith, who continues to live in Youngstown, has two adult sons, Rollen III, who has a Master of Education in school counseling from The University of Akron and is a guidance counselor at a Canton school and Trevor, who has applied to the Ohio State Highway Patrol.
"Over the years, I've had a number of parents thank me for helping to make a difference in their children's lives," said Smith. "Unfortunately I've been to a lot of funerals too.
"I've learned that all I can do is try and provide the support and skills to help young people lead successful lives and hope for the best."
Smith's last day at the court is July 30, however, he will be continuing his work at YSU.